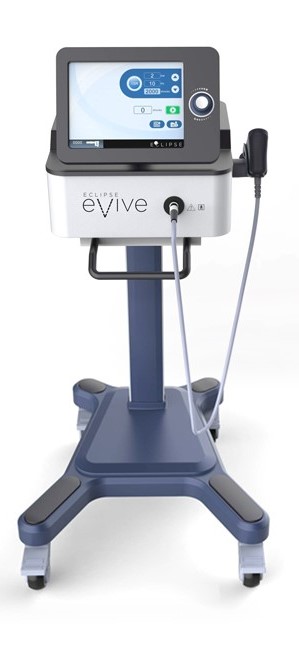 It is a pleasure to share this information about a state-of-the-art solution to a common painful problem. ESWT or Extracorporeal Shock Wave Therapy will make your life more enjoyable with one simple 18-minute procedure.
Originally developed to dissolve kidney stones, this procedure involves shockwaves, or sound waves, being directed from outside the body and can be directed onto the area of pain. Sending shockwaves into a patient' treatment area is intended to stimulate the speed up of the body's own healing process. ESWT is also capable of over-stimulating nerves, reducing sensitivity and pain.
The therapy is applied through a very delicate mechanical action (a sort of micro-massage on cells and tissues), that is able to stimulate certain biological reactions. These reactions include the anti-inflammatory effect, anti-edema and pain in addition to locally improving microcirculation.
Shock wave therapy can effectively treat a range of musculoskeletal conditions. Complaints involving attachment points for tendons and ligaments in major joints such as the plantar fascia, Achilles tendon, shoulder, elbow and knee are common areas for treatment.
The procedure can be painful, and can cause pain immediately following the procedure. Other side effects from ESWT are minor skin bruising, reddening, and swelling around the treated area.
Some people experience no more pain from day one. Most will have noticeable to significant improvement by the thirteenth week. A second treatment after sixteen weeks may be necessary in approximately 20% of patients. As it took time to create the injury, healing also takes time. Total healing of the area can take up to one year.
Insurance does not cover shock wave therapy for pain.
You may need 5-6 treatments weekly. Cost $80 per session, pre payment of $400 for 5 sessions.